Our Conference Room Rental Will Help Make Your Meeting A Success!
Our Conference Room can accommodate eight (very comfortable) to ten (a little tight) people. Rental rates are $35 Per Hour and $250 for an 8-hour day.  All conference room rentals are handled via a Google calendar that our client have access to.
Some of our conference room rental clients include CPA's, Attorneys, Internet Marketing Consultants, and many other professionals looking for the perfect conference room rental location to meet their clients where a receptionist will make their client feel welcome.  You can even have us hold onto a package till your client shows up if you have to leave early, which is a great benefit for CPA's.
If you are a seasonal professional like a CPA that wants a Scottsdale location to meet with your clients to provide them tax planning or hand off their tax returns, our conference and meeting room it the perfect solution. If you plan on meeting with client regularly, consider a Virtual Office which will save you money.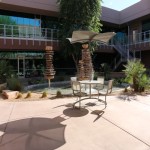 Our clients rave about our courtyard and how their clients love the view and calming natural sounds of the water flowing.  You can even take part of your meeting outside and enjoy the beautiful weather and you will never have to worry about anyone smoking around you.  Sometimes, it is the small things in life that make the biggest different!
We are centrally located in Scottsdale very close to Highway 101 and the Shea exit.
Call Us At (480) 725-1170 Or Contact Us To Rent Your Conference Room Today!