Your Executive Office Suite Awaits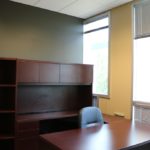 We specialize in one-person Executive Office Suites and Office Spaces in Scottsdale, Arizona.  Meet and impress your clients with a beautiful Class A Scottsdale location and Scottsdale mail address.
What makes our solution different from all the other Executive Office Suties, is that unlike the big box shops we stay 99% occupied, so we can offer A Lot More For Less with a Personal Touch!  We have only increased rates once to date and most of our tenants have been with us for over three years.  Do not take our word for it, we encourage you to check us out online within Social Media, YouTube Videos and Google, and we think you will be impressed with how our clients love the way we go the extra mile to ensure their Executive Office Suite is as promised.  Remember, we are smaller, but that is by design as we also run our other successful businesses in the suites.
We remove all the hassles and let your focus on meeting with your client and building your business!  For example, some big Executive Office shops limit your conference room hours per month, while we have no limits.
Clients love the sound of the fountains as they enter the courtyard and the professional conference room environments.
There are a lot of choices out there for virtual office space, but we all know in marketing it is about location, location, location!
* Our Location is not suitable for Therapist/Counseling Professionals or High Walk-In Traffic Businesses.
Office Sizes Window & Interior
We offer furnished Executive Office Suites on the exterior with large Windows and Ineterior Office Spaces with doors side windows.  Our office sizes start at 85 square feet and go up to 130 square feet.  They are fully furnished, and we do not allow any additional furniture expect if you have that special chair you love.  See our Executive Suite Gallery for pictures of location and offices.
Who Needs A Virtual Office
A Executive Office Suite and Office Space is ideal for a business or professional who wants to establish a location in Scottsdale, AZ without all the expenses of have long-term lease.  The business professional outgrowing the home office and is looking for an easy transition to an office environment will love our Executive Office Suites.
Availability – How It Works
Our promise to you is that you will enjoy your time with us and if for any reason you are unhappy, just let us know and we will do everything we can to make it right.  Then again, we have never had an unhappy client since we started in 2010. 
Now Let's Look At Some Reasons Why Our Clients Love Us!
One Low Monthly Cost For Everything
Class A Commercial Office Location (location, location, location)
Lease Is Month To Month
Office Door Locks
Enter Your Suite Anytime You Want 24 Hours A Day
Unlimited Conference Room With Reservations Via Google Calendar
Professional Fully Furnished Office
High Speed Internet
Use Voice Over IP or Your Cell For Your Phones
Mail Delivered To Your Executive Office Suite
Kitchen (Microwave and Refrigerator)
Walk To Local Restaurants Or Maybe Your House
Much More…
Additional Options
Reserved Covered Parking Space $25/Month If Available
Display your company name on window next to the door
Executive Office Suite & Office Space
Reservations Via Calendar
24/7 Access

Month To Month Lease

Fast Internet

Fully Furnished

Unlimited Conference Room Use

Kitchen

Everything Included
* Limited Reserved Covered Parking Spaces Available $25 /Month
* There is a one-time Small Setup Fee
* Location Not Suitable for Therapist Professionals and High Walk-In Traffic Businesses
Our Office Suite Clients Say It Best!